March 30, 2020

Making a Difference: PacLease's Gina Vecchioni Inspires Young Women to Join the Leasing Industry
When Gina Vecchioni was named as PACCAR Leasing's top National Account Sales Executive (NASE), it was fitting that it came in March during Women's History Month. She was the first-ever woman to win the award. It was an honor that put an exclamation point on a 32-year career in truck rental and leasing…a career that keeps growing with no end in sight.
The trucking industry, and full service truck rental and leasing in particular, is one that has more room for women. Gina loves what she's doing and wants to encourage young women to join her in the transportation field.
"Most women in college don't say, you know, I think a career in transportation or trucking would be a good fit for me," said Gina. "I sure didn't feel that way back in 1988. I actually fell into the field right out of college – I needed a job and an opportunity to work a rental counter for a major leasing company was available. So, I took it thinking I'll do that for a year or two, then move maybe to France where I can put my Psychology and French majors to use."
But, luckily for us, she never went to France. Instead, she got to learn about trucks, interact with customers, and become one of the stars in the industry.  She joined PacLease six years ago and has worked the Northeast part of the country with fleets of all sizes, in all vocations.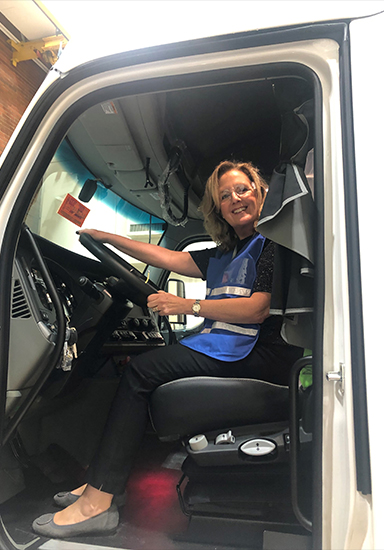 "My job is never boring," she said. "Every day is a new challenge. One day I might work with a chicken processor to see how leasing might be a good fit for them and the next day I'll be talking to a petrochemical company. Every company is different, and their transportation requirements are different. For me to be successful, I need to show how leasing can meet their business needs and how PacLease can custom design a solution to fit their exact requirements. Being able to lease premium Kenworth and Peterbilt trucks, along with a dealer network that is second to none, makes my job so much easier. I know the package we put together for customers will work, and work well."
Being able to become a premier National Account Sales Executive took time and practical experience. Gina reflected on how it all came together for her.
"I started on the rental counter, and kept accepting new challenges and responsibilities.  That led to supervisory roles with in rental, rental sales, and then a natural transition into full-service leasing."
This allowed Gina to navigate the dynamics of the industry while learning the significant role leasing and rental plays in transportations solutions. 
Along the way, she met very few women doing what she was doing. "I was the only one using the women's restroom," she joked. "But I'm beginning to see more women in logistics -- several of my accounts have women as their primary decision maker. I really enjoy talking with other women who have careers in transportation to see how they started their career path, and how they balance life with a demanding career."
When Gina isn't working on lease deals, she's active in the National Private Truck Council (NPTC) where she helps support and promote new membership. "NPTC is a great organization that helps educate private fleet managers, while also lobbying for their interests back in DC," she said. "The seminars at their meetings are outstanding and there is a lot of exchanging of ideas on what works and what doesn't."
Not surprisingly, Gina's hard work has been recognized in the industry. Gina was awarded with NPTC's "Allied Member of the Year" award in 2019.   

Going forward, Gina said the industry is making more strides in attracting women. "PacLease is a member of the Women in Trucking Association, and that's a great organization," she said. "It helps promote our industry, but more still needs to be done."
It's one reason she's a mentor and sounding board for young women looking into the industry as a career. "They don't have many role models in the leasing industry, because there are so few of us out here," she said. "Women see other women in professions and can visualize the career opportunities.   Young women need to see people like themselves in the industry and say I want to do that". You can make a very good living and have a fulfilling career in transportation. I tell anyone that will listen that if you have a helpful personality, enjoy dealing with people and can solve challenges, then a career in truck leasing could be right for you."
In times of uncertainty, we acknowledge that the dedication of our people to keep customers business moving is what keeps us going.  PacLease wants to congratulate Gina on all of her accomplishments thus far.  As we celebrate 40 years of committed service to the industry, we celebrate the employees like Gina who continue to make it all possible!