PacLease Trucks Attract Business and Drivers for Idaho Springs Water
March 29, 2017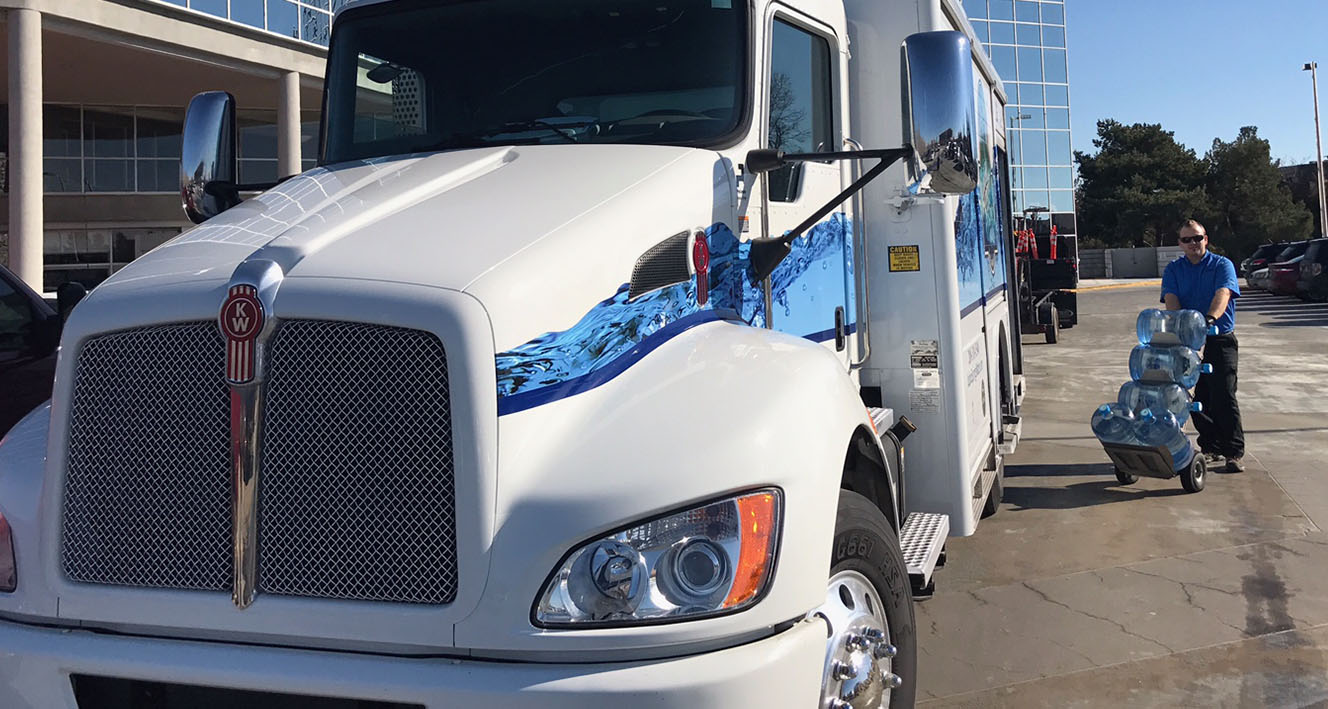 Craig Bartschi has a philosophy. Provide uncompromising customer service, and look good doing so. It's a one-two punch that has propelled Idaho Springs Water into becoming Idaho's largest bottled water supplier.
"Service and quality is what we're all about, and that goes for the trucks we operate," said Bartschi, who has owned the Boise-based company since 1993. "We feel our Kenworth trucks are rolling billboards for us – they sell our business.  People see the quality of our trucks and know the product we deliver will be just as pristine. And it is. We figure 30 percent of our new accounts come from our trucks."
For the past four years, Idaho Springs Water has been leasing Kenworth T270s from PacLease through Kenworth Sales Company the local PacLease franchise in Boise. The five Kenworths in operation are spec'd with the PACCAR PX-7 engine and utilize Allison automatics. Each is equipped with 16-foot six-bay bodies, which can accommodate up to 220 5-gallon water jugs.  One of the six compartments is designated for bags of salt (for use in a water softener), Keurig coffee systems, and coolers for the water jugs.
According to Bartschi, in such a specialized business with a growth rate at about 20 percent a year, downtime is not an option. "I learned the hard way when I was in ownership," he said. "I found the cost of ownership was significantly more than a lease program. I had purchased used trucks, but when I factored in the cost of repairs and maintenance, I was spending more than what I would pay in a lease. With PacLease, I'm getting new trucks and it's costing me less.  What's more, I don't need to find a good mechanic or be put on a waiting list to get my truck repaired or serviced. The peace of mind that comes with the full service lease saves me a lot of headaches and downtime. We rely on these trucks so heavily to operate our business and create our sales -- we just can't afford any downtime and can't deal with an unreliable truck."
Quality service and quality trucks took a shot in the arm once Bartschi started leasing with PacLease. "We tried leasing before PacLease, the quality of trucks we get from PacLease over those from a competing national leasing company became very apparent when our drivers got behind the wheel of the Kenworths," he said. "I even drove one of our new T270s on an 80-mile run. There was a night-and-day difference in quality with the Kenworth and the other trucks – the T270 was more comfortable, and easier to drive, and we liked the cab configuration. And, over time, we've found the Kenworths to be more durable, plus more fuel-efficient. We've seen a 25 percent jump in fuel economy and that's big when fuel spikes in price – it makes a difference in our profitability."
While the mileage on Idaho Springs delivery trucks are low – between 20,000 and 30,000 miles a year – the number of stops per day is not. "We service a 300-miles radius of Boise, but 90 percent of our deliveries are in the greater Boise area," said Bartschi. "Our drivers make between 70- and 100 stops per day. That constant in-and-out proved a problem with our previous trucks – we actually had to have door hinges replaced. With the Kenworths, it's never been a problem. These trucks are solid."
Bartschi also said that preventive maintenance is easier with PacLease thanks to its mobile service. "We no longer need two drivers to shuttle trucks to our leasing company for service," he said. "PacLease comes on weekends to our location to do PMs.  That's a huge time saver for us, and a service that really helps our operation. We couldn't be more pleased with how PacLease works with us."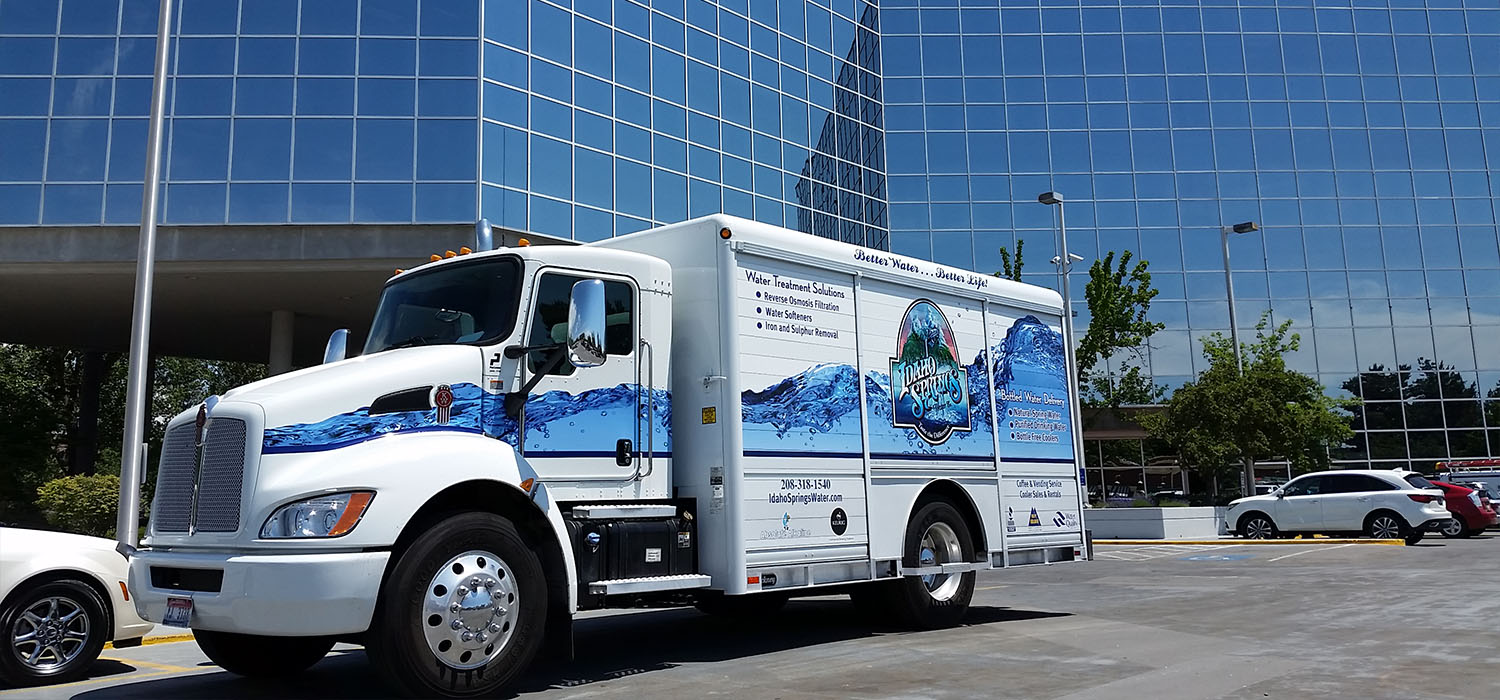 According to Bartschi, staying savvy helps keep the company ahead of the competition. While most of Idaho Springs' business is bottled spring water from its own plant, the company has diversified by offering alkaline water with an enhanced PH level. "We're the only ones to offer this water and it has become very popular with health-conscious consumers," he said. "About 30 percent of our accounts are now residential. Our customers first enjoyed our water at the workplace, then decided to bring it home to their families."
While the Kenworth T270s make deliveries, help bring in new accounts as moving billboards, they've also been a mainstay in keeping drivers happy and on the payroll. "Our trucks are the envy in the business," Bartschi said. "I've never lost a driver to one of our competitors, but we've had our competitor's drivers come talk to us wanting to join our organization. What we're doing, and the trucks we run, is the best in the marketplace."