Trans-West Carries the Load in a Non-Stop Operation
October 13, 2017
For-Hire Carrier Runs with PacLease for its Driver Teams
The niche is also a challenge. It's long-haul for-hire carriage using driver teams. The Kenworth T680s, under a full-service lease with PacLease Montreal never sleep; and that's the way Trans-West likes it. Wheels are moving, drivers are making money, and the company is prospering.
Trans-West, based in Lachine, Quebec, operates 150 power units, and 250 refrigerated trailers, and hauls loads from the Quebec area to the west coasts of Canada and the U.S., as well as Florida, then backhauls produce to Quebec and Ontario. All told, the company logs 35 million miles a year. With trucks running around-the-clock, the 25 to 30 daily departures from Quebec to California for example – about 3,000 miles away – takes just 2-1/2 days.
"By operating nearly 100 percent driver teams, we've developed a specialized service in our area," said André Boisvert, vice president and co-owner of Trans-West. "Our core business is to transport produce as quickly as possible up into Canada, and we've set up a transportation system that maximizes our efficiency. We are growing with our customers and the demand for our services actually outpaces what we can supply."
The company operates safely and efficiently. It was recognized as the second safest carrier in North America by the Truckload Carrier's Association (in the 25-49.99 million mile category) in 2016.  Driver turnover is well below the industry average; and exceptional fuel economy helps drive down costs.  So too does a full-service lease from PacLease, which provides the company with the ultra-reliable Kenworth T680s backed by a meticulous preventive maintenance program that keeps downtime to a minimum.
It's no wonder that Trans-West has been named as "One of the 50 Best Managed Companies in Canada," by CIBC and Deloitte for the past six years.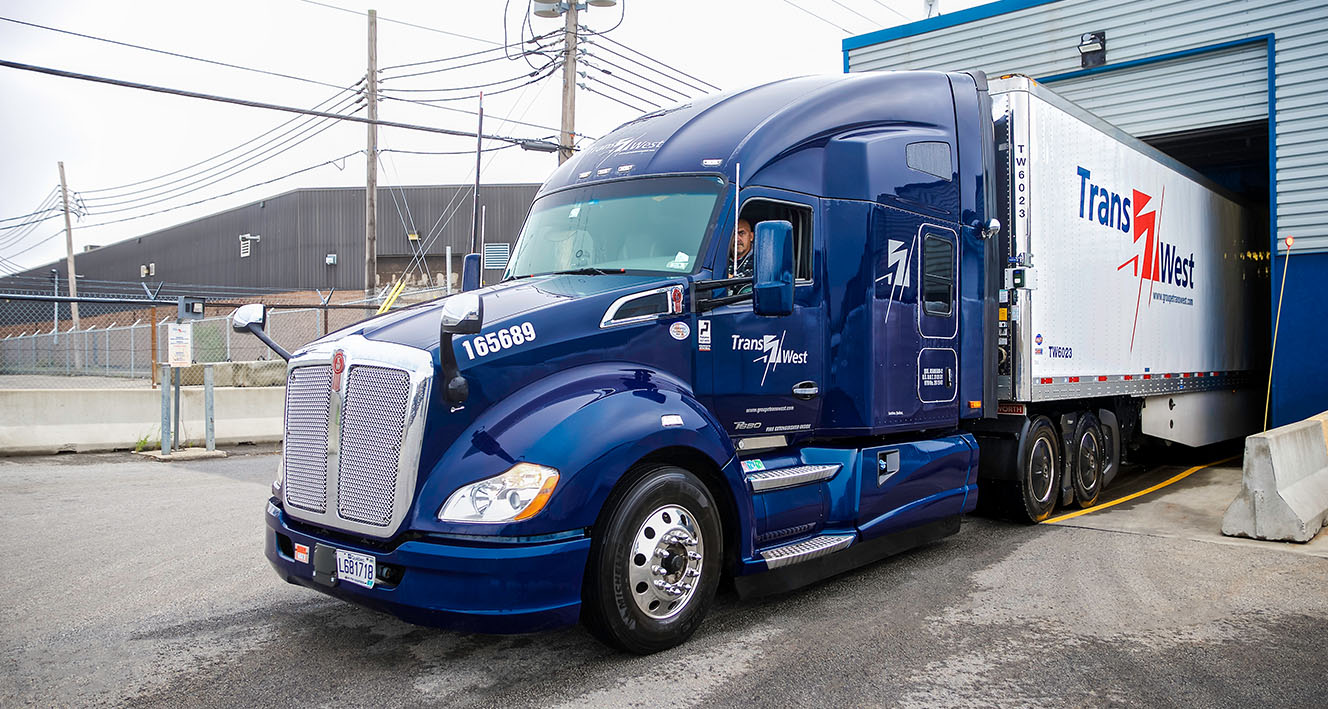 Much of Trans-West's success can be attributed to running with driver teams -- positioning itself apart from its competitors. However, there have been bumps in the road. When the recession hit in 2008, freight volumes tumbled. Trans-West felt the pinch and had to reduce its fleet size. The recession gave the company a chance to re-examine its business model – specifically the way it handled its trucks.
"We had historically purchased and maintained our own trucks," recalled Boisvert. "We understood that logistics was the core of our business, but the truck side was consuming a lot of our energy. Every 38 months we had to buy new trucks, and sell our old trucks. And we had to have continual training in our maintenance department to keep up with all the new truck technology. Since our trucks averaged 300,000 miles a year, they were rarely 'home,' and we couldn't afford breakdowns and the headache of what to do if a truck did go down."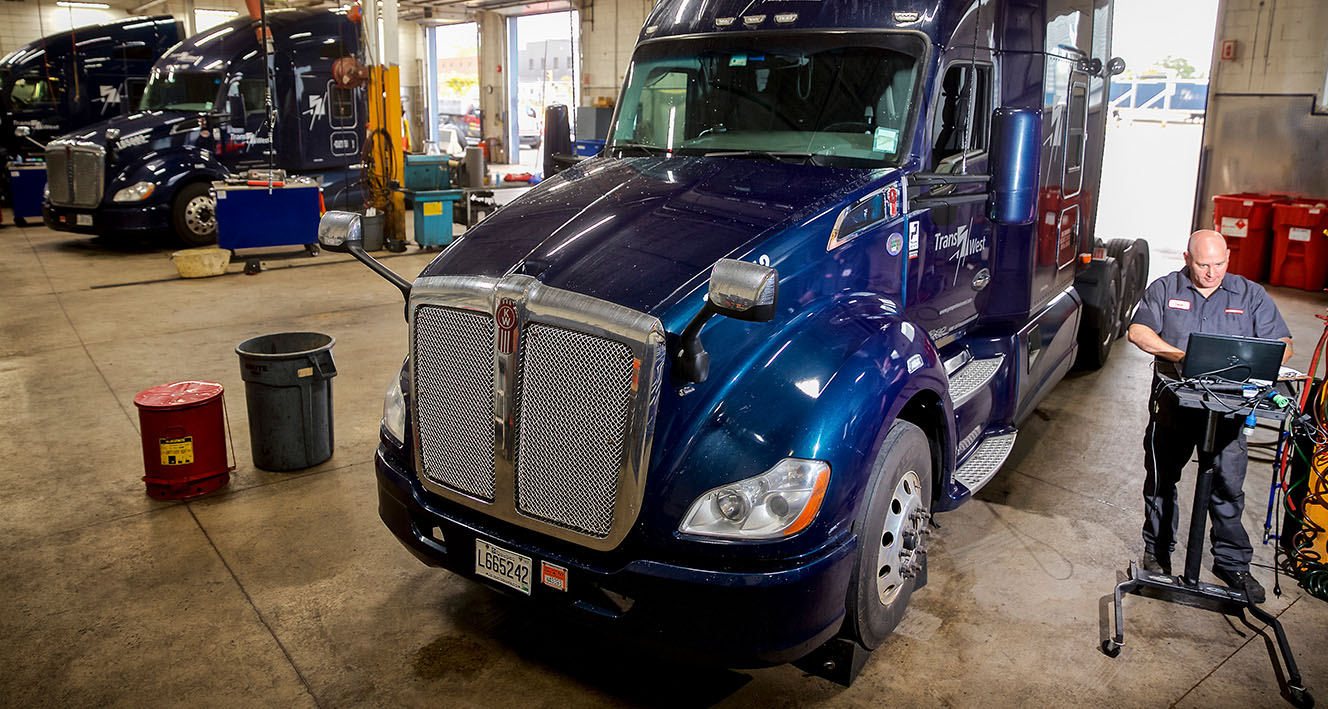 PacLease solved those problems with a creative contract maintenance program. PacLease technicians work at Trans-West's maintenance facility utilizing their three service bays, rotating trucks through for inspections and maintenance to keep the PacLease units running trouble-free. "Preventive maintenance is really a key to keeping our trucks productive," said Boisvert. "We get the best of both worlds with PacLease – they handle maintenance at our facility, which is very convenient for us; and their technicians are trained specifically on Kenworth trucks, so we always know they're ahead of the curve when it comes to the latest technology and keeping our trucks moving."
According to Boisvert, streamlining the program even more is how PacLease and Trans-West drivers stay in constant communication. "If they have any concerns with the trucks they let PacLease know immediately so they can be fixed right away. And, if there is an issue on the road, PacLease can direct the truck to another PacLease location for immediate service. It gives us added assurance of uptime."
Since drivers are utilizing the Kenworth T680s to the utmost – driving and sleeping – a comfortable vehicle is a must. "The T680 is the perfect truck for us," said Boisvert. "It's pretty spacious and gives our drivers the room they need. Our drivers love them. We were able to work with PacLease to custom spec the trucks, which allowed us to tailor the vehicles for our needs. The engines are rated between 450 and 500 horsepower, and we're running Eaton Fuller Advantage 10-speed automated transmissions."
Leasing also gives Trans-West another advantage: Predictability. According to Boisvert, Trans-West knows its costs through leasing, and there are no wild swings in transportation costs, which can be a problem in ownership. "This way we have fewer variables," he said. "It allows us to budget accurately, and most importantly it allows us to negotiate rates that give us confidence."
With more PacLease trucks on order, Trans-West is well positioned for continued growth and prosperity. "You need to have trust and a partnership with your leasing company," concluded Boisvert. "We have that with PacLease."