Consolidated Supply: 90 Years of Excellence in Wholesale Distribution
March 5, 2018
Relies on PacLease to keep deliveries flowing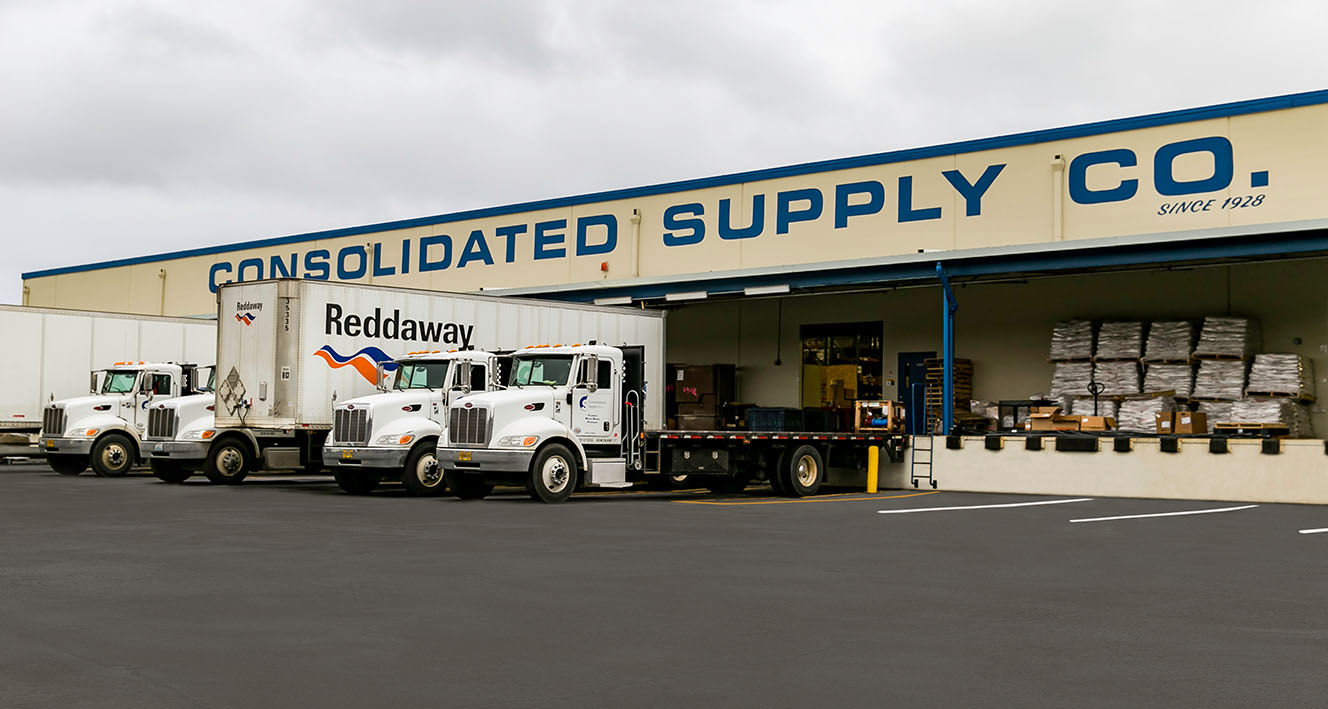 Consolidated Supply Co., based in Portland, Oregon, has a lot of moving parts. As a company celebrating its 90th year of business in 2018, this fourth generation family owned company, serves as a wholesale plumbing distributor in Oregon, Washington and Idaho. Over the years, it has earned a reputation as the go-to source for plumbing, heating and underground water infrastructure products. All told, the company represents hundreds of companies, selling hundreds of thousands of products each year.
"We service professional plumbers and utility contractors who work on commercial, residential and new construction projects," said Rob Luttrell, corporate operations manager for Consolidated Supply. "We'll deliver up to 40-foot fusible pipe, as well as 40-inch diameter materials weighing 300 pounds per foot to job sites for industrial water projects. We also deliver toilets, showers and everything in between to contractors involved in new construction and remodels. What we deliver runs big and small. We have a motto that we've stayed true to for 90 years: 'Doing ordinary things extraordinarily well.'"
With a construction boom underway, Consolidated Supply had a record year in 2017. Its 17 branch locations are currently experiencing between 6-10 percent annual growth.
With so many branches, and a litany of products to distribute, Consolidated Supply relies on a fleet of 67 trucks, Kenworth and Peterbilts, with the bulk leased through PacLease. The trucks are leased through four PacLease franchises: Western Peterbilt Leasing, Papé Truck Leasing, Kenworth Sales Company PacLease, and Jackson Group Peterbilt PacLease. The trucks are placed in 15 of Consolidated Supply's locations.  The company leases a Peterbilt Model 579 solely for inter-branch transit deliveries, and another eight Class 8s (seven Peterbilts and one Kenworth T880) for the company's "water works" division, hauling long and heavy pipe, fire hydrants, and other materials to construction sites. However, for the bulk of Consolidated Supply deliveries, fleets of Peterbilt Model 337 medium-duty trucks, equipped with 26-foot flatbed bodies, carry the load.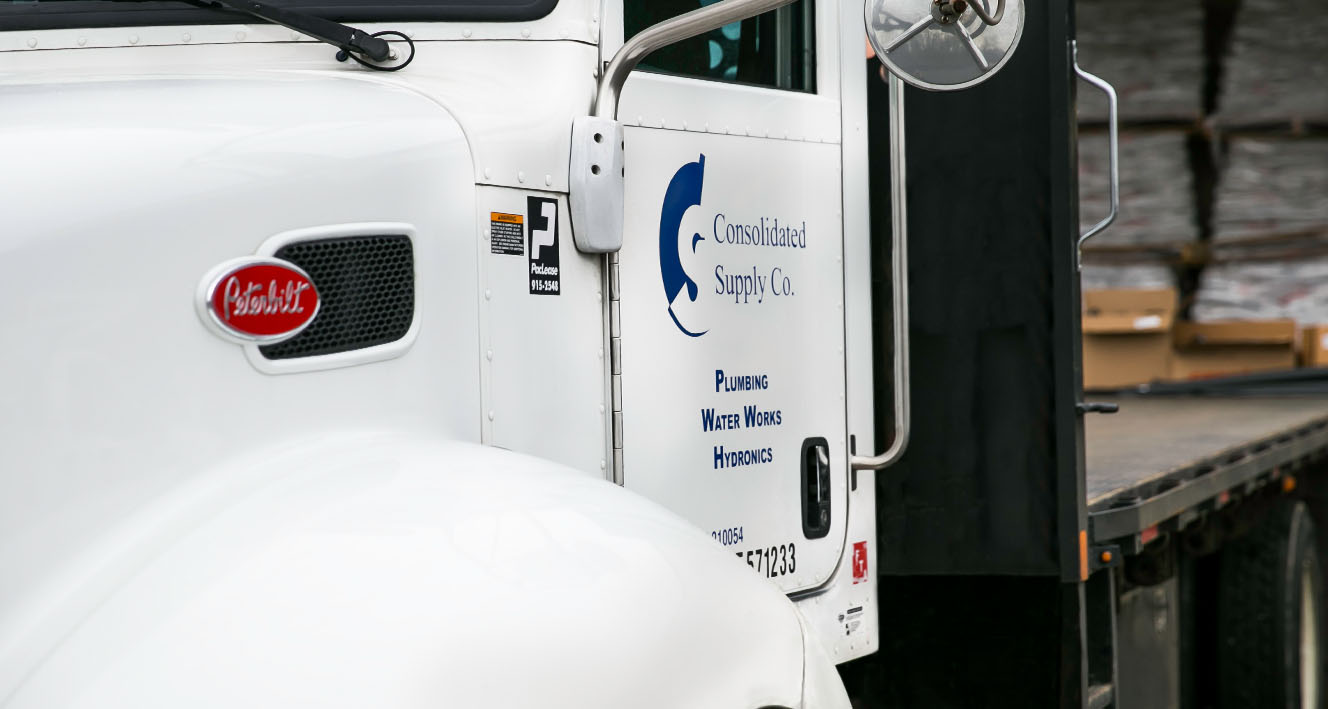 According to Luttrell, distribution needs to run flawlessly at Consolidated, and it does. "First and foremost we look for reliability in the trucks we operate and we feel PACCAR products certainly are at the forefront," he said. "Uptime is so important. Contractors have a set schedule and rely on our deliveries so their crews and sub-contractors can go to work. We can't have them stalled on a project because one of our trucks broke down."
To ensure uptime, Luttrell said PacLease's factory connection, and dedication to the PACCAR product, pays dividends. "Our PacLease representative and the technicians who work on our Peterbilt and Kenworth trucks know them inside and out. That comes into play when it comes to spec'ing – we have specific requirements with our trucks.  And it matters big time when it comes to maintenance – technicians know these trucks better than anyone else. Lastly, since we lease the trucks, PacLease is the ultimate owner. They have a vested interest in how the trucks perform and hold up. It's a combination no other leasing company can offer."
The Consolidated Supply fleet put on 2.7 million miles in 2017, and the last time an "at-fault" accident occurred was seven years ago. The company was recently awarded the gold medal safe driving honor from the Oregon Trucking Association in its mileage category. "And, our CSA scores are near-perfect," said Luttrell. "Everyone has bought into having a safe fleet, and it all begins with a quality truck and meticulous maintenance program, operated by dedicated, well-trained drivers."
According to Luttrell, PacLease does a great job of scheduling maintenance so it doesn't interfere with deliveries. "In Portland, for example, PacLease technicians come to our facility at night and perform PMs. In Spokane, a mobile service van is used and PacLease performs PMs and repairs on our grounds to save us time. It's very convenient. We're now looking at doing contract maintenance program with PacLease on the remaining owned trucks we have."
With so many locations, Consolidated Supply has excellent distribution coverage. "Our medium duty fleet can run a radius of more than 100 miles to each location, and each truck makes two to three runs per day, dropping loads to four to 10 contractors on each run," said Luttrell. "So route optimization is critical to stay as productive as possible."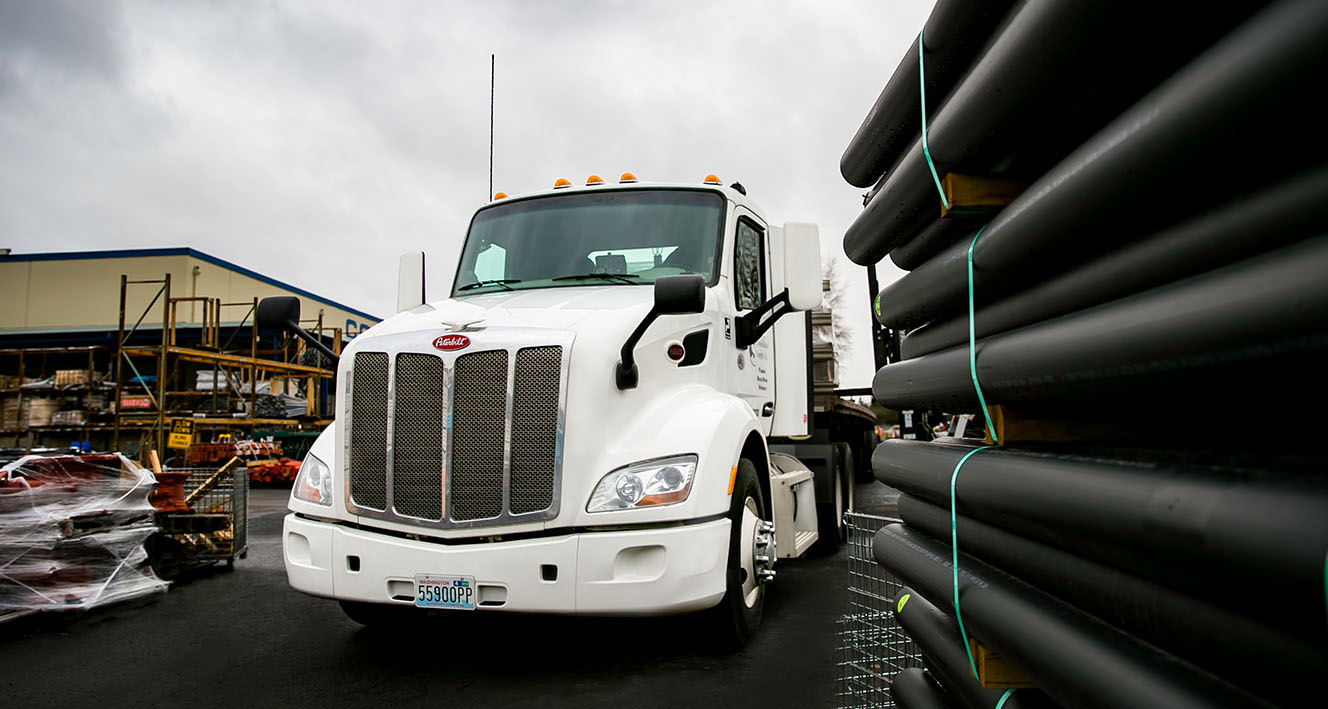 According to Luttrell, drivers favor the PACCAR equipment. "The ride and comfort is so much better than on our other trucks. When you sit in a truck for six to eight hours, you want to be comfortable. These trucks are great to drive and they contribute to our low driver turnover."
Since each branch will go through different growth modes with seasonal ups and downs, fleet averaging and truck utilization come into play. "We monitor the mileage and needs of each location," explained Luttrell. "So, if one branch needs more equipment or is running more miles, we can take a newer leased PacLease unit and place it where it's needed – and conversely move a higher mileage vehicle to a location where the need isn't so great. The flexibility of PacLease to work with us is just great."
Luttrell said the partnership with PacLease is something that Consolidated Supply values. "They're like us in a lot of ways," he said. "We've been honored to receive Oregon's Top Workplaces award in three-consecutive years. And we look for partners who are just as passionate about their business. It's clear that PacLease cares a great deal about what they do and the customers they serve.  Our president, Karla Neupert-Hockley, ends each of her emails with, '400 employees, 3 states, 1 heart.'  It shows that we're all intertwined and working together. I think the same could be said for the people at PacLease."