New Owners, New Trucks: Eagle Transportation Readies for the Future with PacLease
July 21, 2019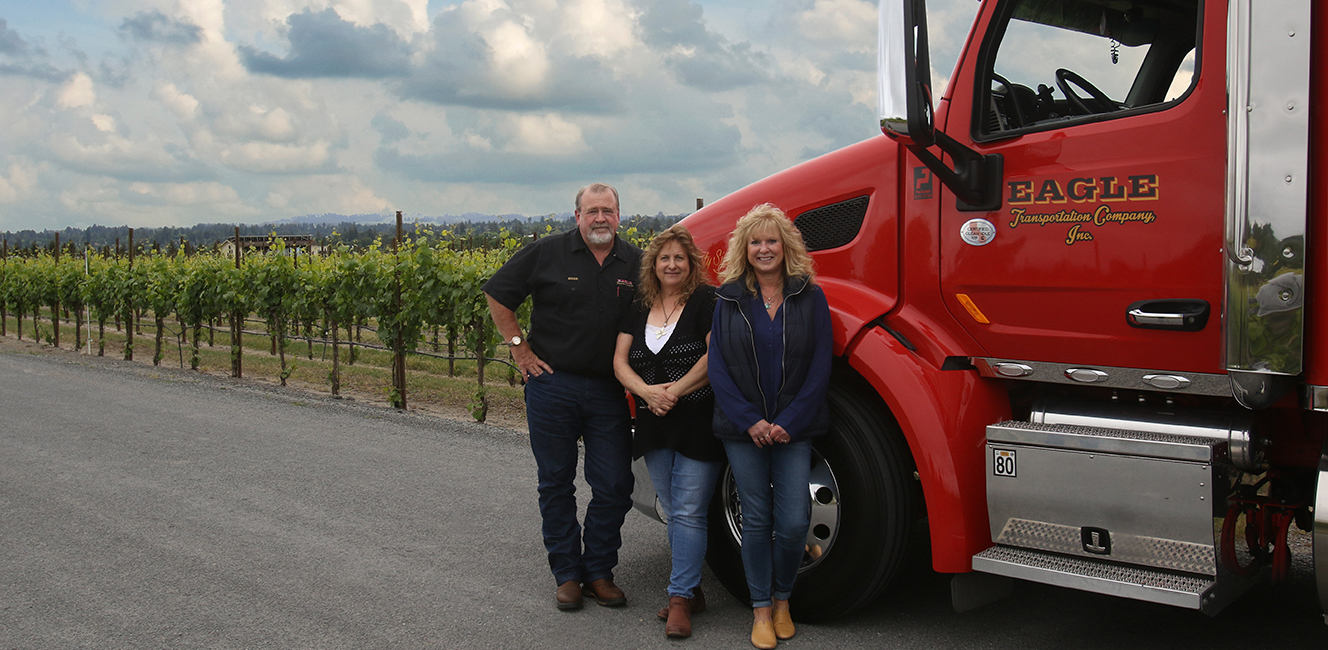 Leased Peterbilt 579s Lower Costs while Improving Uptime for Wine Hauler                                      
When Mike and Kim Brady, along with Jeannette Moneymaker, purchased Eagle Transportation Company in October, 2015, more than a few champagne bottles were uncorked. Mike Brady and Moneymaker had each worked for Eagle Transportation for close to 30 years; now it was their time to take ownership of the company and fulfill its potential.
"The original owners had started the company in 1977, as a spin-off of a beer distributorship in the Santa Rosa (California) area," recalled Brady. "Over time, the company branched out into the wine industry  -- transporting juices, wine and bottles -- plus we did warehousing. It made a lot of sense, since we were in the heart of wine country. That side of the business just grew from there."       
With more than 400 wineries in the Napa Valley, and California as a whole producing 90 percent of all U.S. wines, wine and bottle distribution is big business.
"Ninety percent of our operation is within a 75-mile radius of Santa Rosa," said Moneymaker. "But we have runs down to Santa Maria on the coast and as far as Bakersfield in the Central Valley – which is about six hours away. We operate 6,500 gallon tankers for bulk wine, as well as dry vans for glass and finished case goods."
Before buying the company, Brady and Moneymaker knew the business well. Brady started his career as a driver for his first 10 years with Eagle, before moving into dispatch, where he joined Moneymaker in handling loads.  There, they developed tight relationships with customers, and developed a transportation system that kept loads flowing. What's more, the two were familiar with Coast Counties Peterbilt PacLease, the local PacLease franchise. PacLease had been providing Eagle Transportation with five Peterbilt trucks in an unbundled lease arrangement – where Eagle Transportation handled the maintenance using their own mechanics and onsite repair facility. 
When the owners decided to retire, they offered to sell the business to Brady and Moneymaker. It would provide a seamless transition for customers and Eagle employees. The two long-time employees were ready to accept the challenge, and when the trigger was pulled, a new era began.
With Kim Brady joining the team as treasurer and office manager, Brady and Moneymaker began analyzing their operation to make a good thing even better.
Eagle had a mix of owned vehicles, plus operated 10 to 12 rental tractors – about 30 trucks total (along with 16 tankers and 30 dry vans). "For us, we didn't think that was optimal, plus our owned trucks were various ages, and some did not meet CARB (California Air Resource Board) emission compliance," said Brady. "We knew we needed new trucks – we didn't want to rent -- and we needed a plan going forward. It was a foggy picture at the time."
That picture crystalized when they met with Coast Counties Peterbilt PacLease. The PacLease franchise has been serving the area for more than 25 years, and has more than 800 trucks in its leasing and rental business. It also operates 10 mobile service units – allowing customers to have trucks serviced at their own location. Working with executive account manager Bill Russell, who has been in the leasing industry since 1982, the group discussed Eagle's fleet operation, in-house maintenance capabilities, and the company's projected growth plan.
"Bill really opened our eyes to all the possibilities of leasing – he knew I was a staunch advocate of owning and maintaining our truck and trailer fleet," said Brady. "But he showed us leasing was a better fit. He looked at our business model, saw where we were and where we wanted to go; he helped us achieve our goals. The key was that leasing would allow us to get into new Peterbilt equipment, allowing us to grow our business while retaining precious operating capital. It also allowed us to re-deploy our truck maintenance staff to handle general maintenance on our owned, less technical trucks and trailer equipment. Ongoing advancements in truck technology make it difficult, if not impossible, for a fleet of our size to hire, train and retain qualified technicians. It made sense for PacLease to handle our truck maintenance – they have economies of scale and direct factory support. They are on the front line – if they can't fix it off the back of their mobile service truck then they fall back to the resources of the dealership service support team."
As for brand loyalty, Brady said it's always been Peterbilt trucks. "We're in this business for the long-haul," he said. "We wanted Peterbilts to showcase our company. Image is big in the wine industry and our trucks -- with our company colors and graphics -- represent us through branding and reputation. They stand out. What's more, being a former driver myself, I know the importance of a high quality truck for our drivers. I still drive on occasion, so I wanted the comfort and image that Peterbilt offers, and our other drives want that too."
Being a new ownership "start up," Eagle Transportation decided to walk before it ran into a long-term lease agreement. Instead of a traditional five year lease, it "test drove" PacLease with a two-year full service lease program using Peterbilts that came from PacLease's rental pool. They were adorned with the Eagle Transportation's graphics package.  Brady said the company immediately began saving money by returning the daily rental trucks they were operating with another truck rental/leasing company.
After one year, with the program going well, PacLease offered Eagle the opportunity to liquidate some trucks from the short-term lease agreement and upgrade to a more conventional long term lease program -- bringing in three new leased Peterbilt 579 day cabs, and one Model 579 with 44-inch sleeper.
Nine months later, five more Peterbilts 579s were placed into service. On this order, the trucks were spec'd with the multi-torque (1550-1750 lb.) PACCAR MX-13 engine, rated at 455 hp, and driven through the PACCAR 12-Speed Automated Transmission. The trucks were custom spec'd with fuel and safety in mind.
"The package that Bill recommended is paying off for us with improved fuel economy and performance," said Brady. "Running tankers takes spec'ing expertise for the power units and we worked well with Bill to come up with the right specs. From a fuel economy standpoint, compared to the trucks we still have in ownership, we've seen a 33 percent improvement. When you look at the impact of that, it's huge - $7,000 per year, per unit in savings."
Also, big for the company is productivity and uptime. According to Moneymaker, should a PacLease truck ever be unable to perform, PacLease will provide a substitute unit. "In the past, a broken down truck could cause missed pickups and deliveries and driver overtime – especially during the fall harvest period," she said.
Any issues with PacLease trucks have been far and few between.  One reason has been the constant communication between Eagle drivers and PacLease. Should an engine light ever appear, the Eagle driver will call PacLease, the service tech will go online, access the ECM of the truck in question, and decipher the engine fault code the truck is broadcasting in "real time," then a game plan can be determined – shut down now or continue on for repair later.
Today, the company operates 15 PacLease units, with another 13 still in ownership. "My advocacy for ownership has changed," said Brady. "Our model going forward is to transition out of ownership and into full service truck leasing with PacLease. Coast Counties Peterbilt PacLease offers one-stop shopping for us and they understand our business and the trucks we need. They do it all, and they do it all well. They are a valued business partner."