PacLease Names Kenworth Sales Company as its North American Franchise of the Year
March 29, 2021

BELLEVUE, Wash., March 29, 2021 — Kenworth Sales Company, a PacLease franchise since 1997, has been named the PacLease 2020 North American Franchise of the Year. Headquartered in Salt Lake City, the franchise has grown to 16 PacLease locations, operating in six states. It offers Kenworth's full line of medium and heavy-duty trucks, plus rental trucks.           
According to Ken Roemer, president of PACCAR Leasing, PacLease franchises stepped up with great support to their customers during a year "with so many unknowns due to COVID-19. Kenworth Sales Company led the way," he said. "They're truly passionate about working with their customer base and investing in their people and facilities. It shows in how many long-term customers they have. I'm honored to present Kyle Treadway, president of Kenworth Sales Company, and his team, with our top honor. They had a tremendous year and demonstrated what customer service is all about."
In addition to the North American Franchise of the Year award, PacLease recognized its top U.S. and Canadian franchises.
PacLease named Dobbs Leasing (headquartered in Seattle, with 12 locations in Washington and California) and Wichita Kenworth PacLease (with four locations in Kansas) as its U.S. Franchises of the Year for Peterbilt and Kenworth. Kenworth Ontario PacLease (with eight locations in Ontario), took home the honor as the Franchise of the Year for Canada.
"Dobbs Leasing expanded its customer base by becoming more diverse – offering full-service leasing in more vocational applications. They've found a great new niche," said Roemer. "Wichita Kenworth PacLease is diverse as well, finding more customers in the agriculture industry. They have a great reputation in the marketplace with a maintenance program that is leading edge, and it's reflected in their very high customer retention rate. In Canada, Kenworth Ontario PacLease pivoted early with the pandemic and worked with new customers in retail and home delivery who saw a sudden surge in business. They delivered the most new leased vehicles of any franchise in Canada."
According to Roemer, PacLease increased its market share in 2020 to a record level, "and that's testament to how our franchise group, which now numbers fifty five in the U.S. and Canada, responded during a very difficult year. Our franchise group, with the support of our PacLease team in Bellevue, not only held their own, they excelled. I couldn't be more proud of what we accomplished."
About PacLease and PACCAR 
PACCAR Leasing Company (PacLease) is one of the fastest-growing commercial truck leasing companies in the transportation industry. PacLease has independent and company-owned full-service leasing locations throughout the United States, Canada, Mexico, Europe and Australia. PacLease provides customized full-service lease, rental and contract maintenance programs designed to meet the specific needs of customers. A combination of reliable, custom-built trucks and complete service offerings allows customers to maximize the value of their transportation resources.
PACCAR Leasing is a part of the financial services group of PACCAR Inc, a global technology leader in the design, manufacture and customer support of high-quality light-, medium- and heavy-duty trucks under the Kenworth, Peterbilt and DAF nameplates. PACCAR shares are traded on the Nasdaq Stock Market, symbol PCAR, and its homepage can be found at www.paccar.com.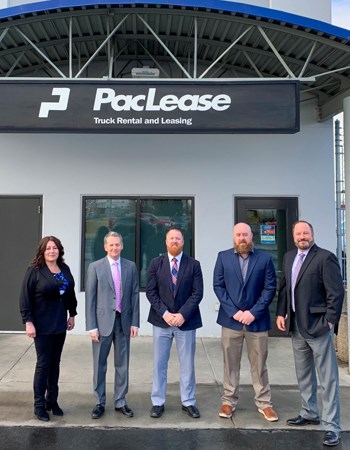 View the 2020 Franchise Award Video on YouTube:
https://www.youtube.com/watch?v=VjSv9_eANhE&t=1s