Leasing Continues to Grow: PacLease is Positioned For Continued Success in 2022
January 12, 2022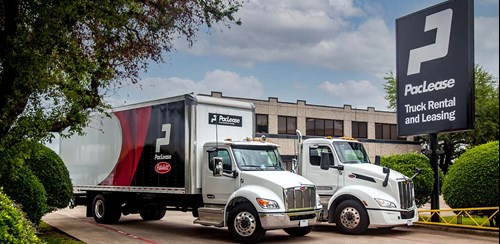 BELLEVUE, Wash., Jan. 12, 2022 — In a strong rebound year for the full-service lease and rental market, PacLease saw industry year-over-year demand grow in 2021.
"This bodes well for our industry as more fleets – private fleets in particular – are growing through full-service leasing," said Ken Roemer, president of PACCAR Leasing. "As we enter 2022, we're preparing for continued growth with new products and services, a strong rental market and new locations to further support our customers."
According to Roemer, PacLease added nine new locations last year, bringing its total to 467 locations throughout the United States and Canada. More are expected to come on board in 2022.
"We're excited about the new year as new trucks from Kenworth – the T680 Next Gen – and Peterbilt's Model 579, are put into service," said Roemer. "Those go along with a completely new lineup of Kenworth and Peterbilt medium duty trucks. PacLease has a lot to offer with new truck technology backed by a strong network and outstanding customer service."
According to Roemer, further growth is expected due to PacLease's recently expanded Fleet Maintenance Service program. "This expands our offerings to fleets that do not typically lease their vehicles," he said. "It provides a totally customized maintenance program for customers that need complete maintenance coverage for their vehicles."
PacLease also made strides in ramping up for the coming of electric vehicles. The company's Dallas location recently installed PacLease's first EV charger as it prepares for renting and leasing electric Peterbilt and Kenworth trucks. "Having the right infrastructure in place is a key to preparing for the growth of electric vehicles," said Roemer. "We have secured both rental and lease orders for delivery this year and are excited to see what the future of electric trucks brings to our industry."
About PacLease and PACCAR     
PACCAR Leasing Company (PacLease) is one of the fastest-growing commercial truck leasing companies in the transportation industry. PacLease has independent and company-owned full-service leasing locations throughout the United States, Canada, Mexico, Europe and Australia. PacLease provides customized full-service lease, rental and contract maintenance programs designed to meet the specific needs of customers. A combination of reliable, custom-built trucks and complete service offerings allows customers to maximize the value of their transportation resources.
PACCAR Leasing is a part of the financial services group of PACCAR Inc, a global technology leader in the design, manufacture and customer support of high-quality light-, medium- and heavy-duty trucks under the Kenworth, Peterbilt and DAF nameplates. PACCAR shares are traded on the Nasdaq Stock Market, symbol PCAR, and its homepage can be found at www.paccar.com.