Safety & Maintenance | Around the Industry
June 30, 2023

CVSA Operation Safe Driver July 9-15th With a Focus on Speeding
By Ben Mueller, PacLease Marketing
The Commercial Vehicle Safety Alliance (CVSA) has announced the dates for the annual Operation Safe Driver Week. This year, from July 9th-15th, law enforcement officers throughout North America will be looking out for commercial motor vehicle drivers that are engaging in unsafe driving behavior.
With a continued commitment to improving roadway safety, the CVSA's Operation Safe Driver Week once again set its emphasis on speeding, as it remains a persistent problem on our roadways, increasing the frequency and severity of crashes.
The table below highlights the top 5 commercial vehicle driver warnings and citations issued in the U.S and Canada during the 2022 Operation Safe Driver Week.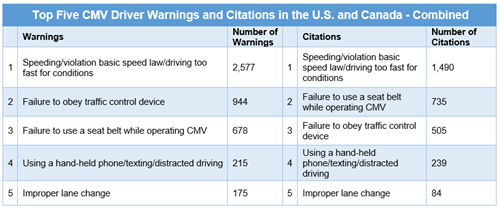 Beyond speeding, the operation also focuses on other unsafe driving behaviors including improper lane changes, using hand-held devices, failure to use a seatbelt, and failure to obey traffic control devices.
In addition to traffic enforcement, education is another key component of the Operation Safe Driver Program by educating all drivers on ways to share the roads safely. 
For more information on the CVSA Operation Safe Driver:
https://www.cvsa.org/news/2023-osd-week-dates/
https://www.cvsa.org/programs/operation-safe-driver/
Additional CVSA Resources:
https://www.cvsa.org/programs/operation-safe-driver/cmv-driver-resources/
Do you find DOT Regulations confusing? Need help with vehicle spec optimization by a qualified professional? Let PacLease be your transport solutions partner for your business.Contact an Expert today to let us help you optimize your fleet.
Keep your drivers current, with up to date and relevant trainings by PacTrainer. A safety Training Program that helps fleets prepare drivers for the road.