Technology | Around the Industry
July 27, 2023

What to Know About the Advanced Clean Fleets Ruling in California
By Javier Gil, Area Operations Manager-KW West
California, in its latest move to combat climate change, has implemented the Advanced Clean Fleets (ACF) ruling, aimed at transforming the transportation sector and significantly reducing greenhouse gas emissions.
Understanding the ACF Ruling
The recently adopted regulation mandates that public and private entities operating fleets of vehicles in California must transition to zero-emission vehicles (ZEVs) by specific target years. By setting ambitious targets, the state aims to accelerate the adoption of electric and other zero-emission technologies, thereby reducing greenhouse gas emissions, air pollution, and dependence on fossil fuels.
Which Fleets are Affected
High Priority Fleets:
Greater than 50 trucks in operation or greater than $50M in annual revenue.
California Fleets:
Trucks in a fleet that operate in California at least once per year. All minimum ZEV percentages are calculated based on the California fleet.
Drayage Fleets:
Any fleet with trucks registered in the CARB Online Port System. Includes drayage fleets entering intermodal railyards and seaports.
Public Fleets:
State, local, and federal government agency fleets, including city, county, special district, and state agency fleets.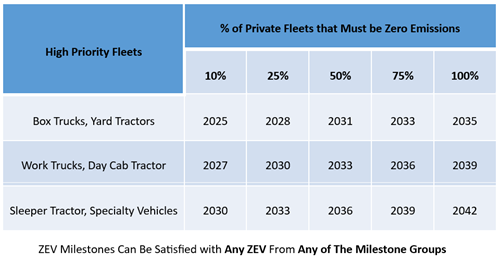 State and Local Agencies
2024 - 50% of Purchases

2027 - 100% of Purchases
Drayage & Intermodal Railyards
Nov. 2023 – New Port Registrations Must be ZEV

2035 – All Drayage Trucks Must Be ZEV

Trucks Registered Prior to 2023 Can Operate 13 - 18 Years or 800,000 Miles
Primary Goal of ACF Ruling
The primary goal of the ACF ruling is to achieve a significant reduction in carbon emissions by transitioning medium and heavy-duty vehicles to zero-emission vehicles. By phasing out conventional internal combustion engine (ICE) vehicles and replacing them with ZEVs, California intends to align its transportation sector with its long-term climate goals.
The ACF ruling in California represents an aggressive and ambitious step towards the adoption of electric trucks. Learn how PacLease can help you create a plan to ensure you stay compliant with the new mandates.
Learn more about Electric Trucks at PacLease, by visiting https://paclease.com/our-trucks/electric-trucks.
More questions about Electric Trucks and EV Infrastructure? Have an Expert reach out by filling out https://paclease.com/contact-an-expert/.
To Learn more from the California Air Resources Board by going tohttps://ww2.arb.ca.gov.